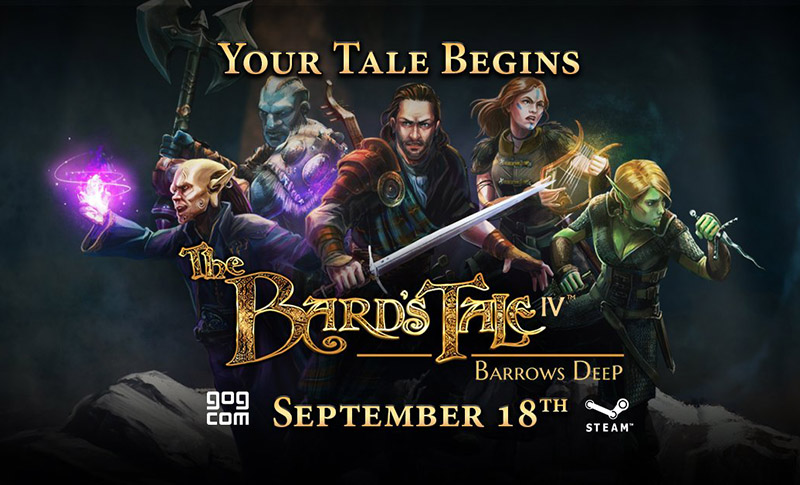 Over one hundred years later, the terrible events of Skara Brae's violent destruction are nearly forgotten. Hidden in the shadows, an evil has waited patiently. Until now. Fanatics are gathering control, the famous Adventurer's Guild has been outlawed and its members persecuted, and you must rise up in defiance to become the hero that the realm needs. Featuring 40+ hours of gameplay, 350 speaking parts, and over 100 pieces of incredible music.

Create the Hero You Want To Be
Play as Bard, Fighter, Practitioner, and Rogue. Each archetype features 60-70 skills and collectively they unlock 21 unique classes. Build an array of characters to make each playthrough a unique experience.

Craft your Party, Your Way
Develop, progress, and grow a party of adventurers as you see fit. Start your party with a single character. Recruit or create new heroes to bolster your ranks. Level up and customize their skills and gear. Summon creatures into battle to fight for you! Build a party that suits your unique play style!

An Adventure Around Every Corner
Traverse a beautiful world filled with wonder and powered by Unreal Engine 4. Explore towns full of quest givers, fight your way through dark and deadly dungeons, and navigate beautiful rolling hills, dense forests, and icy wastes.

Outsmart Evil
Battle your enemies in dynamic, intuitive turn-based tactical combat that rewards clever thinking. Combine spells and skills for increased effects greater than the sum of their parts. Use superior strategies, thoughtful positioning, and deadly combos to bring down your foes!

Unlock the Secrets of the Past
Unravel challenging mysteries. If your enemies don't get you, the devious riddles, demanding puzzles, and dangerous traps which await just might. For those bold enough to seek them out, hidden rewards await your discovery.

Recover Powerful Artifacts
The sense of discovery and mystery doesn't stop with the environment. Recover ancient Elven weapons imbued with mystical powers and containing secrets which you'll need to uncover by carefully examining them. Doing so will gain you deadly advantages in the battles that lie ahead.
Where to Buy
PC