Some users have reported seeing an "out of video memory" error when starting the game:

There are two main causes of this problem we've observed.
Integrated Graphics Instead of Dedicated Graphics Card
If you are sure your computer meets the system requirements for the game, but still see this error, it is likely you have an integrated graphics processor in addition to a dedicated graphics card. The game may be be trying to run on your integrated graphics instead of the dedicated graphics card. This is more likely to occur on laptops that have dual-graphics configurations, but some desktop systems may also experience this issue.

To fix this, you can follow the steps below.
Windows 10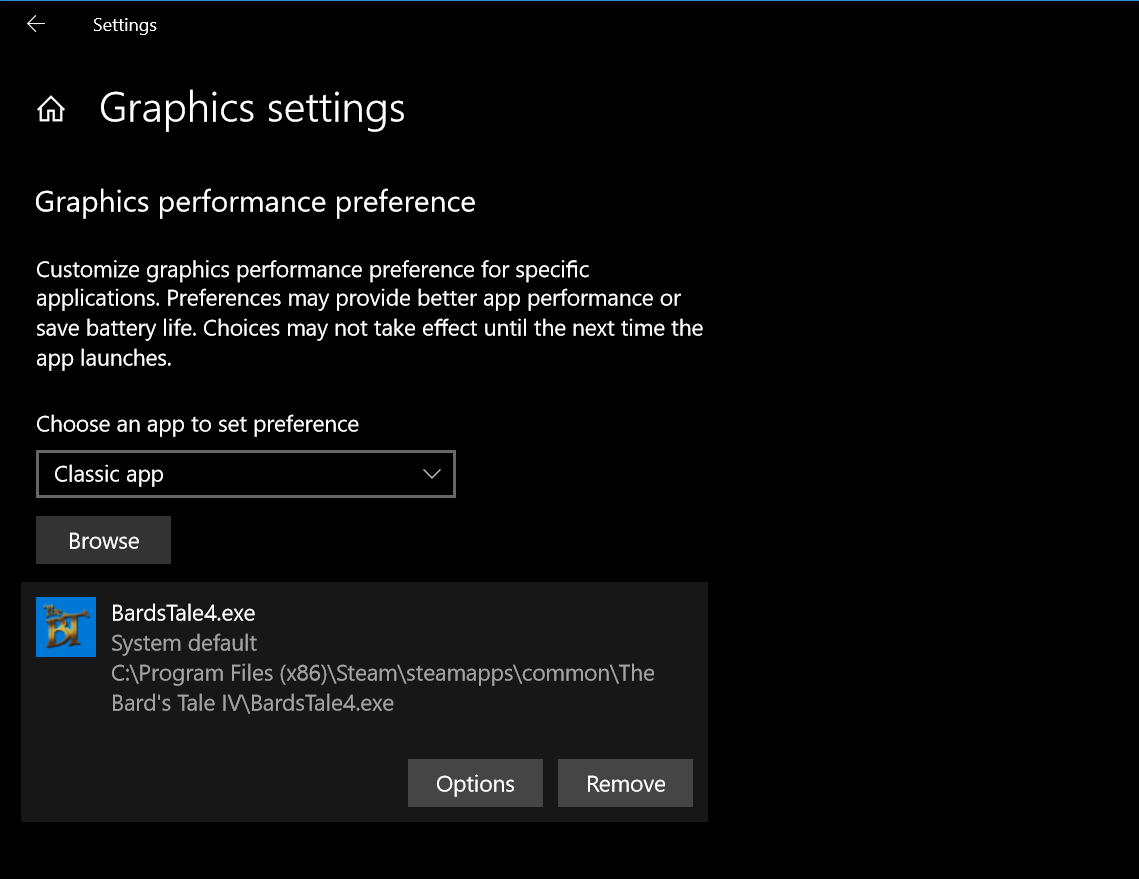 On newer versions of Windows 10, the operating system lets you choose whether to run a game in High Performance (dedicated graphics) or Power Saving (integrated) modes. To change this:
Go to Settings -> Search.
Search for "Graphics Settings"
Once in Graphics Settings, select "Classic App" and click "Browse".
Use the File Explorer dialog that appears to navigate to the game's install directory and select "BardsTale4.exe", then click "OK".
Once the entry for The Bard's Tale IV appears, click the "Options" button.
In the popup window, select "High Performance" to use your dedicated graphics, then click "Save".
The game should now be starting with your dedicated graphics instead of using the integrated graphics.
NVIDIA GeForce Graphics
For NVIDIA users, this setting can also be changed from the NVIDIA Control Panel. To change which graphics processor the game is using, please see the instructions on this page.
AMD Radeon Graphics
For AMD users, this setting can be changed inside your AMD Radeon Settings. For instructions on how to do that, please visit this help article.
Below Minimum Requirements
This error can occur if your system does not meet the minimum requirements for the game. For instance, we've seen this occur on some systems running integrated graphics instead of a dedicated graphics processor, and also have a low amount of system RAM, i.e. 8 GB or less. In this case, the only way to resolve the issue would be to play the game on a system that meets or exceeds the minimum requirements.